We Go The Extra MILE for our Clients!
Proud Recipients of the 2021 Berkshire Hathaway Home Services
Chairman's Circle - Platinum Top 1% Nationwide!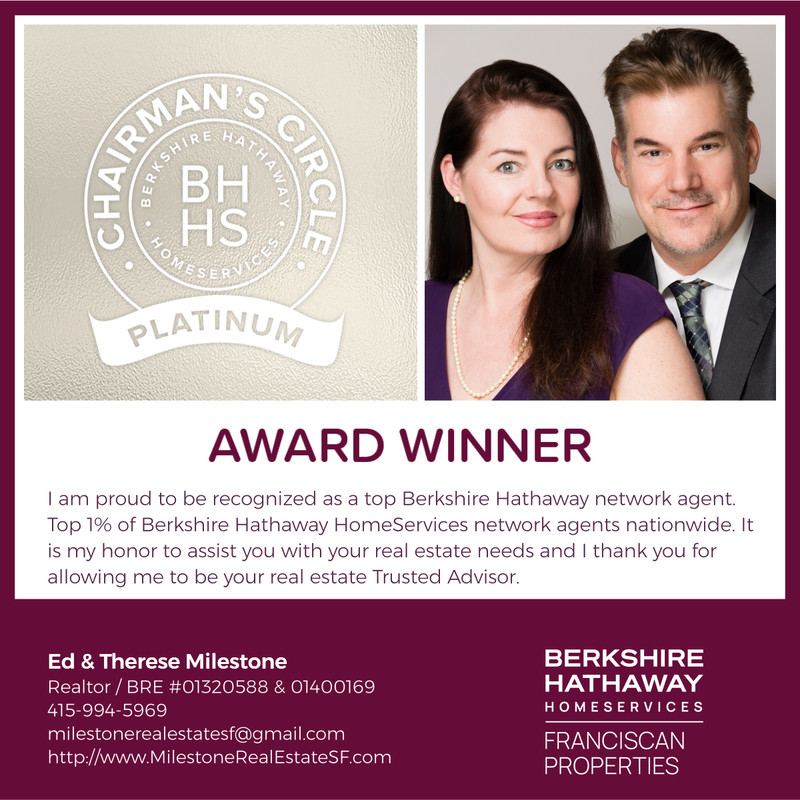 IN CONTRACT! Golden Gate Heights with Panoramic Ocean Views!
SOLD! Elegant Pacific Heights Condo!
SOLD! Golden Gate Heights Doelger with Pano Ocean Views!
SOLD! Inner Sunset Single Family Edwardian Home!
Click Here to Start Your Home Search!
Register for Our Home Buyer or Home Seller Seminar!
Why should you retain the services of Therese & Ed Milestone?
Homeowners we've represented ratify an offer for their property for an average of 117% of list price and in an average of only 14 days!
Buyers we've represented ratify an offer for a home in an average of 21 days from the date we first view homes!
In addition to being Realtors, Therese holds a Broker-Associate License which requires a higher standard of real estate experience and education. Our clients, in turn, enjoy the benefits of enhanced negotiation and risk management on their behalf!
And our Client Testimonials show just how happy our clients are!
WE GO THE EXTRA MILE FOR YOU!
Going the extra mile for Therese & Ed Milestone, husband and wife and both fourth-generation San Franciscans, permeates every task they undertake so it seems only natural that it's their slogan. With over 30 years of combined experience encompassing real estate sales, property management, real estate appraisal, and real estate development, they are properly educated to serve their clients' needs in the competitive San Francisco real estate market.
"Going the extra mile begins with the fact that there are two of us. The beauty of this is that our clients enjoy the benefit of two licensed Realtors working for them for the same price they'd pay for one Realtor elsewhere," states Ed. Working as a team is nothing new for Therese who has nine siblings and Ed who has seven. They both agree that by working together, they offer a superior service to their clients. Each has different strengths they bring to the table, which combine to make them a clear winner when it comes to selecting a Realtor to work with.
Ed and Therese take pride of being full-service Realtors. What this means is that they "get in the trenches", so to speak, with their clients. When listing homes, Ed will oversee the process to bring the property to market, including obtaining bids from painters, stagers, landscapers, and other vendors, checking on the progress, and ensuring all timelines are met for the first Open House. He also meets inspectors and appraisers personally so he can share the history of the home and neighborhood. As Broker-Associate, Therese manages contracts, disclosures, marketing and escrow for the property. Together Therese and Ed negotiate the Purchase and Sale Agreement on their client's behalf, including price, terms, addenda, concessions on inspections, counteroffers, closing dates, and rent backs, if necessary.
When working with buyers, Ed and Therese are passionate advocates for their clients. They view homes when it's convenient for their clients and Ed's background in construction is invaluable when it comes to reviewing property inspections and notating red flags that can hold up the purchase of a property. They prepare their clients properly to formulate a winning offer in today's real estate market. And they work closely with the lender to remove loan contingencies in a timely manner so that escrow closes on time. Additionally, they are committed to communicating with their active real estate clients 7 days a week via phone, email, and text.
Contact Ed and Therese today for a no-obligation consultation!
*****
©2022 BHH Affiliates, LLC. An independently owned and operated franchisee of BHH Affiliates, LLC. Berkshire Hathaway HomeServices and the Berkshire Hathaway HomeServices symbol are registered service marks of Columbia Insurance Company, a Berkshire Hathaway affiliate. Equal Housing Opportunity.